The foundation
That nest. A father, construction engineer and real estate agent. A mother, handicrafts teacher. That family, with all those painters, sculptors and musicians. That's where the foundation lies. That's where it starts. With drawing and painting. In the Netherlands, on Curaçao. Always. Artist. That's her destiny, that's her calling. It's what gets her through, over and over. Through all those tough times. She gets to know herself through the pencil, the brush and the potter's wheel. That noise in her head. Those letters that never become words, but always remain images. So, Annemieke Dicke illustrates stories. What she hears, what she sees, what she feels. She imagines it. On paper, on canvas or in clay.
The story
Annemieke's artwork is always about people. The harsh, and at the same time, beautiful reality. The real story. That's what she wants to tackle. By listening, by observing. To the tone of the words. To the hands, the eyes, the posture. All the world events, the passers-by and her own life, including all those setbacks, it's all intertwined. It's bubbling inside her head, continuously. Then she has to go inwards, inside herself. And that's when it happens. Then everything connects with each other. Then everything comes together. With images. In a painting or in a work of art made of clay. But always including a relevant message.
The form
It starts with a powerful image. A volcano erupting, lines in a face, the melancholy in a girl's eyes. Then the research begins. To find the form, the material and the symbolism. And the technology, of course. She is, after all, a real professional. It's a process of trial and error. She's not where she wants to be, yet. So it continues; testing, trying something new over and over again. Annemieke is evolving.
Curriculum Vitae Annemieke Dicke
| | | |
| --- | --- | --- |
| Born | May 11, 1967 | Santpoort, Netherlands |
| Resided | 1967 – 1968 | Netherlands |
|   | 1968 – 1981 | Curaçao |
|   | 1981 – 1993 | Netherlands |
|   | 1993 – present | Curaçao |
| | |
| --- | --- |
| Founder/owner | Artis Magistra 22, school for visual arts, Curaçao |
| | | |
| --- | --- | --- |
| Education | 1985 – 1987 | 'Constantijn Huygen' Art Academy, Kampen, Netherlands |
|   | 1987 – 1991 | Art Academy 'AKI', Enschede, Netherlands |
|   | 2003 – 2006 | Teaching Training, University of the Netherlands Antilles, Curaçao |
Solo exhibitions
2015
Working with color
Gallery Hardware, Netherlands
 
2013
Abolition of slavery on Curaçao
Maritime Museum, Curaçao
 
2012
Into the skin
Monart Gallery, Curaçao
 
2011
Lighthouses
Martitime Museum, Curaçao
 
2002
'Journey, through life'
Kas di Alma Blou, Curaçao
 
2001
Lighthouses in ceramics
Maritime Museum Curaçao
Highlights
2004
Invited as a foreign artist to build a 10-meter high lighthouse
Full Color Festival, Emmen, Netherlands
 
2006
Jury Prize
Curaçao Museum, Curaçao
 
 
Worked on various private collections, including those of the Dutch Royal Family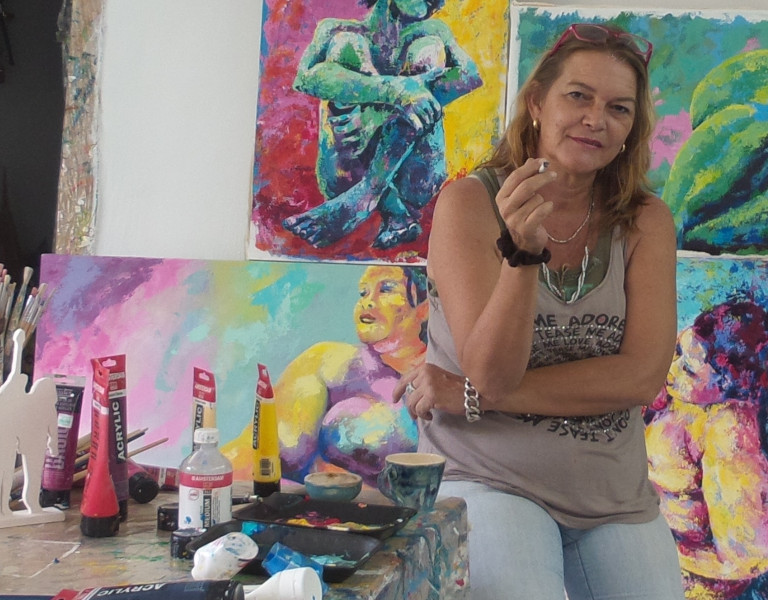 Commissioned painting
I would be happy to make a painting for you for a special person or a special occasion.
Learn to paint or ceramic yourself?
Sign up for lessons at Artis Magistra 22.